The $50 Mongolian Cashmere Crew
Details:
Material: rare, 100% Grade A Mongolian cashmere; 15.1 micron thickness, 34-36mm super long fiber length
Weight: 200 grams
Origin: cashmere sourced from Hircus goats in Inner Mongolia
Description
The crewneck sweater is a classic. Ours is luxuriously soft, made from 100% Grade A Mongolian cashmere yarn. A casual piece with a relaxed fit that is easy to layer or wear on its own. Dress it up or down - you can replace all of those other sweaters with this one.
Group Buying allows you to unlock even lower prices on items from Last Brand
How?
Buy at the discounted price, and get another friend to buy from us to get your order fulfilled
Shipping & Handling
$6.00
Traditional Retail Price
$100.00
See How
For hand washing (preferred option) please use cold water (30°C) and neutral soap or baby shampoo. Rinse out without rubbing and lay it on a flat surface to dry at room temperature, avoiding sunlight. Iron at low temperature, using pressing cloth. Do not bleach. If you prefer dry cleaning, please ask for delicate detergent.
Customer Reviews
11/19/2019
Ann M.
United States
I recommend this product
Great to deal with
I ordered 4 of the Mongolian Cashmere Crew. Only 3 came in the package, so I contacted the company and they sent another as soon as they had it. And also took the charge off my credit card. The quality of the cashmere is very good, especially for the price.
11/17/2019
Daria S.
United States
I recommend this product
Very soft and warm cashmere sweater
Amazing quality, true to size. It had a slight smell to it when I first got it, but it went away when I let it air out to a little bit. Looks and feels like a very expensive cashmere. Love it! I will definitely order another one soon.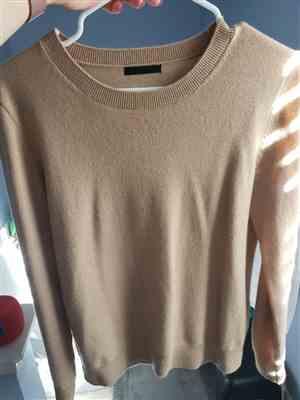 Excellent photo, Daria. Thank you for taking the time. As for the smell, we're glad to hear it went away. We've received a few complaints about this, so we are actively working with our factory partner to address this. We're glad to hear that you'll order again soon. Thank you again for your feedback - we're so grateful for the chance to serve you better.
11/17/2019
KAREN S.
United States
I recommend this product
Very nice and Good Quality
Very nice, thick cashmere, Excellent price Good customer service
Hi Karen, we're so glad to hear that you like our cashmere. We are very focused on providing the highest quality items at the lowest price paired with top-rated customer service. We're glad that we were able to serve you well and hope to continue to do so.
11/14/2019
Madeline L.
United States
I recommend this product
Mongolian cashmere sweaters
I love my new purchase as I love all the purchases and if you have to exchange something or return something till you learn your size, customer service is very helpful everything is true to size and the color saturation is beautiful.. thanks last brand M. Linder N. J
Thanks, Madeline! We are so happy to hear that you've had a good experience with us and our products. We're so grateful to have you as a customer. Thank you for your continued support!
11/13/2019
Ashley G.
United States
I recommend this product
I OWN A CASHMERE SWEATER!!!!
Tell me where you can buy a quality cashmere sweater for less than $100?! I'll tell you where, Last Brand!!! I love this sweater. It's high quality, soft, and goes well with jeans, a skirt, or dress pants. I highly recommend!!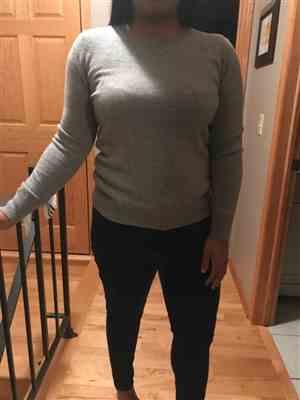 Ashley, we're so glad your cashmere purchase was a success!!! And we're very glad to hear that you find the cashmere high quality and versatile - that is exactly what we were designing for. Thanks again for taking the time to write a review. We're so grateful to you for doing so!
11/06/2019
Alexa W.
United States
I recommend this product
Flattering fit. A bit pilly
So soft. Great color. A bit pilly. Ive worn it twice
Thank you, Alexa! We really appreciate the review and we're so glad that the cashmere crew falls nicely on you. We will look into the pilling situation immediately - thank you for your honest thoughts! We're getting better every day because of feedback like yours. :)
Earn up to 50% off by referring friends
P.S. Your friends can get upto 50% off on their first order too.
Its our way of saying thanks for helping spread the word!