The $58 Premium Washable Silk Blouse
Details
Material: 

100% premium silk

Weight

: Beautiful hand-feel weight of 18 mm

 
Origin: 

China

Care:

Hand-washable. Washed blue color: Dry-clean only.
Description
A relaxed fit gives this wardrobe classic a modern perspective. Made from 100% premium Chinese silk, this lightweight shirt pairs effortlessly, from draped over jeans to loosely tucked with a pencil skirt. Making styling effortless for every occasion. 
Group Buying allows you to unlock even lower prices on items from Last Brand
How?
Buy at the discounted price, and get another friend to buy from us to get your order fulfilled
Shipping & Handling
$4.14
Traditional Retail Price
$98.00
See How
Hand wash in cool water with a mild detergent for delicate fabrics. Soak the garment then gently agitate in the water. 
Rinse thoroughly in cold water and hang to dry. 
Customer Reviews
11/20/2019
Denise A.
United States
I recommend this product
Classic Blouse
Love it! I know I'll wear it often, dress up or down. Great purchase and value! I'll definitely be purchasing more items from Last Brand.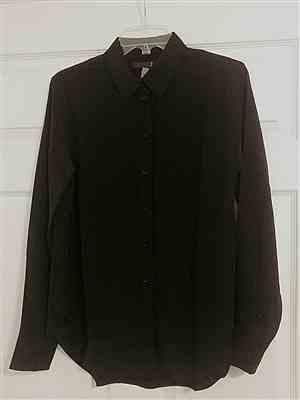 Hi Denise! Great photo. Thanks so much for sharing your experience with us. We're so glad to hear you find the silk blouse versatile! That was our intention.
11/17/2019
Daria S.
United States
Blue silk blouse
Nice quality item! My second silk blouse from this brand.
Thank you for the review, Daria! We're so glad to hear that you're happy with your washable silk blouse.
11/11/2019
Whitney H.
United States
Great shirt!
This shirt is beautiful in navy! Certainly well made, too, especially for the price. My only complaint is shipping time. It took a long time to receive it.
Hi Whitney, thank you so much for taking the time to write this review! We hear you on shipping time and are working day and night to improve this as quickly as possible. Typically, you should expect your order to arrive within 8-11 business days once it's shipped. We're looking to get this down to less than 7 days. We're nearly there - thanks for your patience in the meantime!
11/06/2019
Avery B.
United States
Great Quality
I ordered this blouse in the ivory/cream color. It is very well constructed and made of beautiful silk. I am a size 10, and I sent back the large for an XL - the L was just a bit too small. I love the blouse though and I am looking forward to the new size arriving.
Hi Avery! Thank you for such a thoughtful review. We're glad you exchanged your blouse for a larger size and we can't wait to hear how it feels. Thanks again for giving us a go! <3
10/07/2019
Crystal K.
United States
Quality Silk
Love how the silk drapes and the best thing-- you can wash it! I liked the texture and it's not shimmering silk. It's subtle enough for an exec meeting but nice enough for a night out.
Thanks for such a nice review Crystal! And thanks for being such a big supporter of Last Brand!
Earn up to 50% off by referring friends
P.S. Your friends can get up to 50% off on their first order too.
Its our way of saying thanks for helping spread the word!