The $75 Italian Calfskin Crossbody Bag
Made by the same factory
that manufactures for
GUCCI
Details
Size: 6" H X 8.5" W 3" D
Strap: Adjustable and removable leather strap 
Materials: Made from the finest Italian top-grain calfskin leather
Hardware: gold zipper closure
Interior: heavy canvas lining and inner zip pocket for your valuables
Origin: Handcrafted in Florence, Italy
Description
A beautiful, mini calfskin crossbody bag with an adjustable and removable leather strap. Large enough for an iPhone and wallet. Heavy canvas lining offers a clean interior including an inner zip pocket for your valuables. This bag will soon become your daily staple. Compliments will be flowing your way!
Group Buying allows you to unlock even lower prices on items from Last Brand
How?
Buy at the discounted price, and get another friend to buy from us to get your order fulfilled
When dirty, give it a quick wipe with a soft dry cloth; with it you can use some leather cleansing cream or a small amount of water; let water spills dry naturally
Customer Reviews
11/12/2019
Amy S.
United States
I recommend this product
Chic and roomy
Love this bag in red! Added a tassel for some extra fun. Holds a lot for its size. The leather and craftsmanship are superb!
Hi Amy, we're so glad to hear you're happy with your crossbody bag! This is a particular favorite of ours in the office. If there is anything else we can do to make your experience with us even better please let us know.
10/24/2019
Miwako T.
United States
I recommend this product
High quality and cute!
I was looking for some nice bag to purchase to celebrate that I got over with some medical issue. I was looking at much more expensive bags but stumbled upon this one... I can return if I didn't like it, and the price was unbeatable. I gave it a try. When I received it, I was quite impressed with the quality and love the red hue. Only thing that I wish they had was a pocket outside for phone or keys. But this looks small but roomy, obviously high quality, without some flashy label on it. I am glad I ordered this. I also got a tote. Awesome bags.... and now on to tees!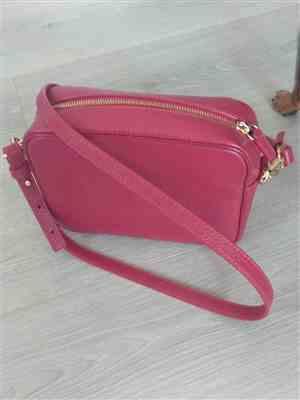 Wow, wow, wow! Thank you Miwako for such an incredible review. Congratulations on your recovery. We're so glad you found us. And thank you for uploading a great photo! <3
10/22/2019
Kathy C.
United States
I recommend this product
Red leather ctossbag
I absolutely love my new handbag. The leather in this bag is wonderful and the quality is superb. My daughter was the one who told me about your company and I am so glad I purchased to cross bags. Keep the good bags and the quality coming
Kathy! So glad to hear you and your daughter are sharing the best. Please let us know if you have any other products you'd like to see - we're always open to suggestions. Thanks again for your support. :)
SC
10/03/2019
Sierra C.
I recommend this product
OMG - Amazing.
Honestly so surprised at how incredibly high quality this bag is for the price. Will buy again. Will tell my friends.
Yay! We're so glad to hear that the bag worked out for you!
10/03/2019
Juliana S.
United States
I recommend this product
Love!
I am so impressed with the quality of this bag! I recently purchased some crossbody bags from a popular contemporary brand before finding Last Brand & this is far better. Exceptional quality. It is so high end looking with the croc embossing, as well as excellently constructed. I will be purchasing more items.
Hey Juliana, thanks so much for your glowing review! We've taken so long to make sure you can get the highest quality for the lowest price, so we're ultimately so glad you found us. Thanks again for your continued support and we hope you have an incredible week. :)
08/27/2019
Martha R.
United States
I recommend this product
"Forever Bag" Super design, quality and versatile.
This Italian Croco crossbody bag works for me. I can put my large cellphone, wallet, and keys in this stylish, easy to carry crosbody bag. Love the high quality black bag with extra long to use to crossbody for safety and ease. Price makes the bag hard to resist. Hope this can be my "forever bag."