The $45 The $72 The $45 The $72 The $45 The $72 The $45 The $72 Embossed Leather Pouch
Because of government imposed lockdown at factory locations due to COVID-19, orders placed will be shipped in 2 to 3 weeks.
Details
Materials: handmade from embossed Hermes leather
Size: 9" W x 6.5" H
Features: zip closure with easy pull tab
Origin: made in USA
Description
Made from embossed Hermes leather, this pouch has a zip closure with an easy pull tab. Great as a clutch or to keep your small items organized in your tote. Matches with our card cases for a super fashionable look.
Group Buying allows you to unlock even lower prices on items from Last Brand
How?
Buy at the discounted price, and get another friend to buy from us to get your order fulfilled
When dirty, give it a quick wipe with a soft dry cloth; with it you can use some leather cleansing cream or a small amount of water; let water spills dry naturally
Earn $10 off by referring friends
P.S. Your friends can get $10 off on their first order too.
It's our way of saying thanks for helping spread the word!
Customer Reviews
Write a Review
Ask a Question
09/30/2019
xuezhao l.
United States
Awesome pouch
Awesome Pouch! And arrived pretty quickly!
Hey Lan, we're so glad you like the pouch. We are working hard to lower the time it takes for packages to get to you. Thanks again for your support and we hope you have a great week!
09/30/2019
Ashley G.
United States
Beauty!!!!
This pouch is perfect as a purse alternative!!! Fits my cell phone, cards, lip gloss, and dental floss. It's of very great quality and I highly recommend.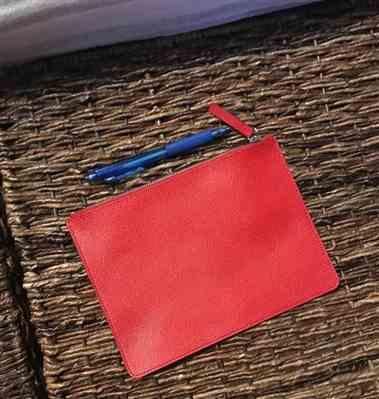 Ashley! Thank you so much for your photo and glowing review. I'm so glad that the pouch is both beautiful AND practical - that is absolutely what we're going for. We hope it proves to be a functional favorite of yours over the coming years. Thanks again for your support!
09/06/2019
Evelyn G.
United States
Great experience and product.
Once again I am very happy with the leather pouch. The color will make it easy to locate in my vegan black tote. My attorney friend is thrilled with her tote. Everything is organized!
Hey Evelyn, we are so grateful for your review! We also are fanatics about organization so we're so glad to see that you've found the vegan leather bag/leather pouch combo. It is indeed an organized persons dream. Thanks again for your support!
08/23/2019
Sara B.
United States
08/16/2019
Crystal K.
United States
Love the interior and leather quality
Smart looking small pouch for your essentials. I think the soft but sturdy leather will stretch after some use, but it only will add to its character. The leather inside is a fine suede texture, and feels luxurious!
07/20/2019
Whitney C.
United States